Communities & Regeneraton
Green and Blue Infrastructure
Ellesmere Port
Rossfield Park
The development of a new sustainable community at Ellesmere Port. This involves the provision of more than 1,000 new homes along with proposals for complementary local facilities and commercial development.
To Date
£61.5m
Capital investment
Future
£123.6m
Capital investment
Total
£185.2m
Capital investment
Northstone to complete Rossfield Park
Proposals by Northstone (part of Peel L&P) for up to 220 new energy-efficient family homes at Rossfield Park will help complete the wider regeneration of this former industrial site.  Northstone's plans represent the final phase of this new community. 
Jonathan England, Northstone's Development Director, said:
"At Northstone, we aim to create distinctive developments, exceptional new homes and communities where families will thrive and we are applying this vision to our plans for our site at Rossfield Park.
"Before we submit our plans to the council, it is important that we work with local residents so their views can shape our proposals. We want to create homes, spaces and communities that local residents can be proud of. All feedback we receive through our public consultation will be considered and will help to inform and develop our plans prior to the submission of a planning application."
Proposals include a range of houses to suit the needs of local people, from starter homes to larger family homes as well as options for those looking to downsize. They are using a thoughtful and modern design both inside and out.  Insulation levels are above the current building regulations requirement and the homes will feature smart energy-saving technology and benefit from industry-leading home broadband connectivity.  Pedestrian-led streets will help to reduce traffic speeds and a new children's play area and improved cycleways will help create a sense of community.  Furthermore, Northstone plans to enhance the neighbouring Jacks Wood with a long-term management plan, improved walkways, signage and areas for exercise and relaxation.
For more information, please click here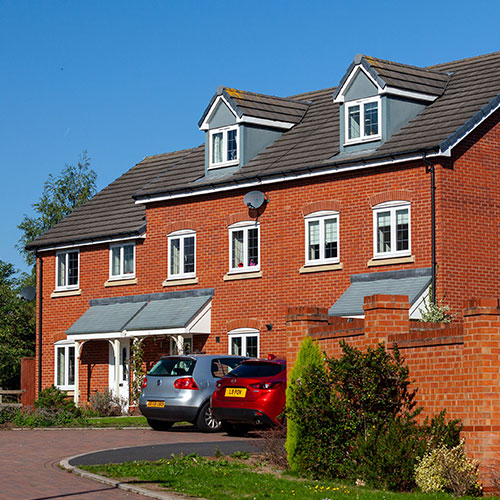 "Life has improved for us in so many ways"
Since the age of 18, I'd always lived in council rented properties and as a family we eventually lived in a two-up, two-down house in Bishop's Garden, Grange Farm. For a growing family and two dogs we were always tight for space, but when we agreed to look after my younger teenage brother there was no choice – we had to get an affordable place with more space. "After trawling the internet, we eventually found the Rossfield Park development, which had a mix of properties available to buy or rent. We were actually going to see another property when we spotted the one we live in now. We immediately fell in love with it and couldn't believe it was available and within our budget. "We've put our heart and soul into this house and every day we feel grateful for the space it has given us. Things other people might take for granted mean a lot to us. We love the fact that the dogs can roam in and out of the house into a spacious garden. Thomas has a bedroom big enough to fit a desk so he can concentrate on his school work and we have a dining room where we can enjoy family meals.
"Life has improved for us in so many ways since we moved here. The fact that the house is close to Thomas' school and our work means we're not wasting time on lengthy commutes, we're close to our family and since we've lived here my brother has turned his life around. He completed a college course and is now in work and living with his girlfriend. We also credit living here with how well Thomas is doing at school. He's a star student and is focused on going to university and becoming a Solicitor. We're really proud of him. "This is definitely where we want to stay and our dream is to own the house one day.