Peel announce joint venture with United Utilities for Scout Moor Wind Farm
February 2014
Peel Energy has announced it is embarking on a joint venture with North West water giant, United Utilities, to expand Scout Moor Wind Farm near Rochdale in Greater Manchester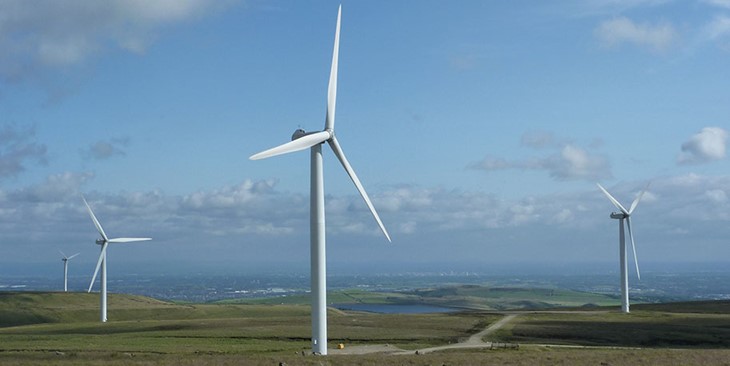 The joint venture company, Scout Moor Wind Farm Expansion Ltd, is proposing to install additional wind turbines at select locations within the existing wind farm and in an area to the north of the site. Peel Energy originally consulted communities on the principle of expanding the wind farm in December 2011. Since then the areas of proposed expansion have been refined, and design options confirmed, in partnership with United Utilities.
Onshore wind continues to be recognised as an important part of the UK's low carbon energy future and is recognised as one of the most affordable large scale sources of renewable energy. The continued development of good sites is essential to minimise the costs of reducing carbon emissions and meet future energy demand. In its first two years of operation the existing Scout Moor Wind Farm produced enough electricity to meet the demand of nearly half the homes in Rochdale.
Peel Energy's, Jon England, explained: "This exclusive collaboration between Peel Energy and United Utilities will see the delivery of a wind farm that will sustainably generate enough electricity for it to be considered of national importance whilst at the same time protecting and improving the local environment. These recent developments, and the consultation we have undertaken to date, have reaffirmed that the wind farm could be expanded if done in a way which is sensitive to the moorland and minimises disturbance to local residents.
"There have always been good reasons for expanding the existing wind farm, such as a proven track-record of high energy output, the investment already made to connect to the National Grid, and the fact that we have an existing point of access. The expansion also presents an opportunity to build on our relationships with surrounding communities, providing much needed funding for a range of initiatives and using the wind farm as a valuable resource for recreation and education."
If the wind farm is extended it would mean a substantial boost to the finances of the local community. In addition to an increase to the business rates from the wind farm that go directly to Rochdale Council, a substantial community benefit fund will also be set up for use by community groups to finance local projects and good causes. A co-operative ownership scheme would also be available to give local people the opportunity to buy a stake in the wind farm themselves.
The design and installation of the new wind turbines will take into consideration the findings of extensive environmental studies that are already underway and go hand in hand with a significant peat restoration programme for this important water catchment area.
Jonathan Hodgkin, of United Utilities, explained: "An expansion to the wind farm provides an opportunity to improve areas of heavily degraded peat moor as well as to protect and enhance wildlife habitat areas and water quality sources on Scout Moor."
An extensive public consultation of the expansion plans with local communities and other consultees will begin in April, including a number of public consultation events for local people. /ends
For further information please contact Sean Robinson at United Utilities on: 0845 072 0822 or Mark Flaherty at Peel Energy on: 0161 629 8414.