Peel Group Welcomes Legal & General Capital as 50% JV partner at MediaCityUK Scheme
March 2015
The Peel Group today welcomed Legal & General Capital (LGC) as the new 50% shareholder in its landmark MediaCityUK scheme at Salford Quays, Manchester.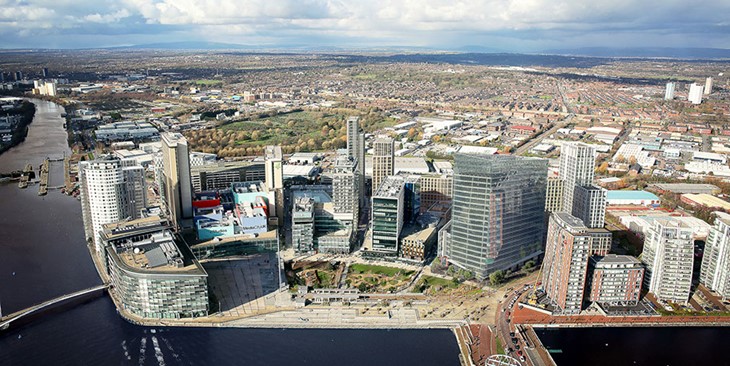 The transaction is a significant milestone reflecting the growing maturity of MediaCityUK and the wider community anchored by it at Salford Quays. Peel will retain responsibility for ongoing development and asset management of the estate.
MediaCityUK is the largest purpose-built creative, digital and technology community in Europe. It comprises a 37 acre freehold site, encompassing studios, office accommodation, incubator space, residential, hotels, retail and leisure facilities. In total, the estate offers approximately 1.6 million sq ft of built accommodation, anchored by the BBC, ITV and the University of Salford. It is also home to over 200 other businesses including dock10, the UK's largest independent studio and post-production facility, and a number of retail and leisure occupiers. MediaCityUK also has the opportunity for significant future growth with a large amount of consented development land that the partners will look to bring forward together.
Steven Underwood, Chief Executive of The Peel Group, said "We are delighted to welcome LGC as Peel's partner at MediaCityUK and look forward to working together during the next stage of its development. Legal & General's focus on regeneration and long history of investing in UK property makes them an ideal partner. Both groups share a complementary approach to property investment, focusing on regeneration, place making and long-term value creation. We are both committed to MediaCityUK's continued growth as a major destination for business, residential living, retail and leisure over the coming years."
Paul Stanworth, Managing Director of Legal & General Capital, added: "Today's acquisition in MediaCityUK is a significant step forward in our direct investment into major UK infrastructure and real estate assets. In the Peel Group, whose vision has been instrumental in the development of the North West, we couldn't have a better partner for the stewardship of MediaCityUK. We know the North West well and are already involved in regenerating Salford. Now, with our investment in MediaCityUK, the potential to drive growth and prosperity for the area is immense. Media and internet technologies are the new industrial revolution and Greater Manchester is at the heart of it."
The Managing Director of MediaCityUK, Stephen Wild, said "Technology, media and creative are rapidly growing sectors in Greater Manchester and MediaCityUK is at the heart of this exciting trend. With over 6,000 people already living and working at MediaCityUK and the substantial opportunities for development and growth, we look forward to bringing further investment to the area jointly with LGC."
The Peel Group was advised by Macquarie Capital, Savills and Addleshaw Goddard.