Schools urged to respond to 'unprecedented scale' of Liverpool Waters opportunity
March 2015
Schools and colleges from across the Liverpool City Region have been urged to respond to the enormous opportunities Liverpool Waters will deliver to their school and college leavers over the coming decades.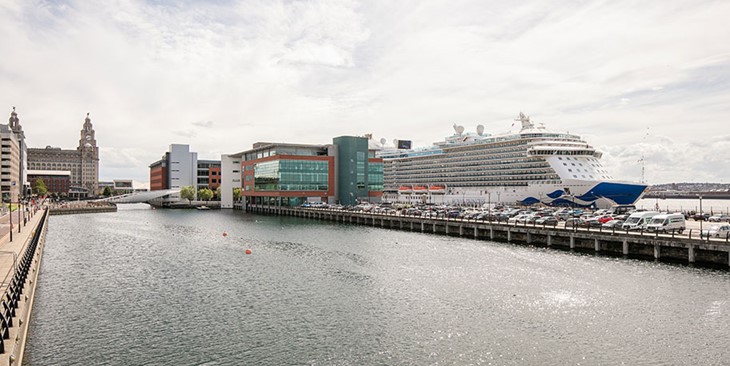 Senior representatives from 34 of the region's schools and colleges attended a specially convened event at Peel's Princes Dock Liverpool Waters HQ on Monday 16th March which has been organised by Peel Land & Property in partnership with the six regional local authorities.
Head teachers, college principals and student representatives assembled to hear from both Peel and local authority officers on the future Liverpool Waters development proposals and the opportunities it will generate for local people.
Director at Peel, Lindsey Ashworth, explained the process from the initial vision to the present stage and how he saw the future. He further explained the key role local schools and colleges will have in maximising the success of Liverpool Waters for the region. He said: "Over the coming years, we expect there to be literally thousands of people either directly or in-directly employed due to the opportunities presented through Liverpool Waters.
"This is an unprecedented scale of opportunity which is in the hands of our next generations to grasp. But, in order for them to do so, they need to have the knowledge and guidance to ensure they are in a position to make the decisions which will shape their entire careers.
"It is therefore vitally important that we, as the developer, start work to engage with these audiences from the outset and this event builds on earlier interaction we have had with schools and colleges in the region.
"There is a similar obligation for the leaders of the region's schools and colleges to ensure they are providing appropriate courses and advice to their students. It is these themes we aim to explore at our event and where we want to develop a two-way dialogue."
The event comes just one week after Peel announced its first major developments at Liverpool Waters since it achieved outline planning permission in November 2013.
Addressing the world's property development and investment community at the MIPIM conference in Cannes [12 March 2015], Peel bosses confirmed that it had submitted a planning application for a new 100,000 sq ft office building, had agreed terms for a 40-storey residential tower and had agreed terms for a combined hotel / apartment development and another separate residential building.
Councillor Jane Corbett, Cabinet Member for Education and Children's Services at Liverpool City Council said: "Liverpool Waters is an incredibly ambitious project which has the potential to not just transform the landscape of the city but also dramatically improve the living standards and career prospects of many generations.
"It is excellent news that Peel are involving local schools from the very beginning because the pupils of today are the workers and local residents of the future."
In planning for the event, Peel wrote to all 97 secondary schools and FE colleges in the Liverpool City Region to invite key staff and student representatives along. As part of its commitment to working with local schools, Peel proposes to run similar events in the future as Liverpool Waters develops further.