Expansion plans for MediaCityUK given seal of approval
September 2014
Salford City Council has given the green light to exciting plans that will bring a new phase of development to MediaCityUK. The proposals will see £20 million of investment by The Peel Group to deliver 54,000 sq ft of creative office and studio space as well as a new 112-bed Premier Inn.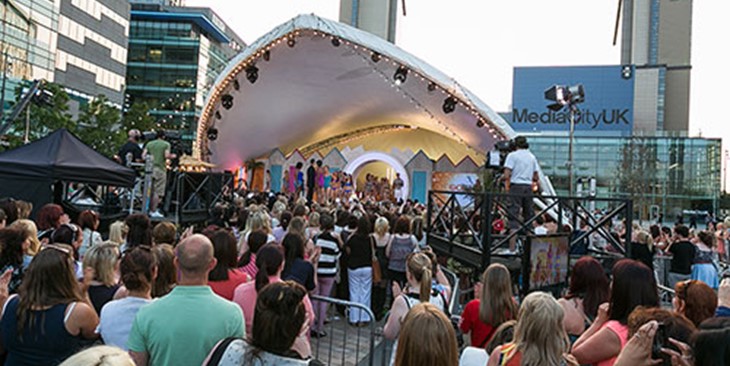 The hotel will further enhance the offering at MediaCityUK as a visitor destination while the additional office space will meet the increasing demand of fast-growing creative and digital companies. Fronting Broadway, the 10-storey building, totalling 100,000 sq ft, will have four floors dedicated to the hotel while the remaining six will provide a blank canvas for occupiers to design their own creative space that is unique to their requirements.
The new building will give occupiers a further option adding to The Greenhouse, The Pie Factory, White, Orange and Blue Towers, The Landing, Digital World Centre, Quay West, The Victoria and The Alexandra.
The latest addition will provide greater choice and flexibility for companies who are not only expanding within MediaCityUK but from across the region and nationally. As well as being home to the BBC, ITV, Coronation Street and the University of Salford, more than 200 smaller media and tech companies are now based at MediaCityUK.
The Managing Director of MediaCityUK, Stephen Wild, said: "Technology, media and creative is a rapidly growing sector in Greater Manchester, which itself is now considered the second largest creative and digital hub in Europe. MediaCityUK has been a key trigger in the explosion of creative start-ups and national relocations so it's essential that we give these businesses the right type of space and the flexibility to grow organically.
"Equally, as MediaCityUK's business community has thrived and our leisure offering has grown, so has its reputation as a go-to destination. The arrival of a new hotel will service both those here doing business or visiting."
City Mayor Ian Stewart said: "MediaCityUK is at the heart of Salford's regeneration and a jewel in the city's crown. I'm delighted to see this new hotel, office block and media hub which will create jobs and opportunities as well as bringing new investment into our proud city."
Construction will commence at the end of this year and will be due for completion by late 2015 while the hotel will open early 2016.