Peel makes triple Liverpool Waters development announcement at MIPIM 2015
March 2015
Peel Land & Property has announced progress with three significant developments for its project Liverpool Waters set within the Mersey Waters Enterprise Zone.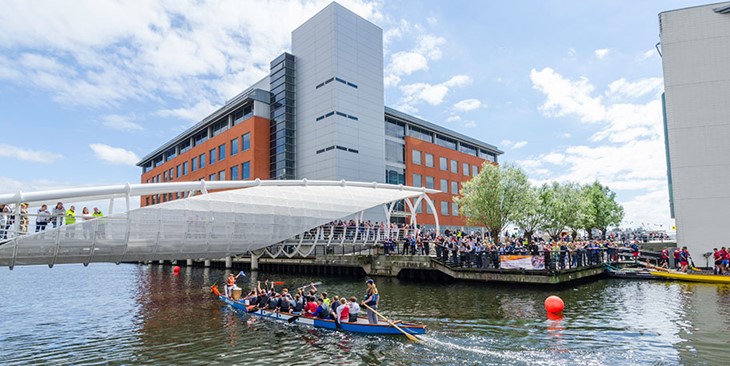 The three developments are;
Planning application submitted for 100,000 sq ft 8-storey office tower
40-storey residential apartment tower
Hotel with apartments
Peel Land & Property has announced progress with three significant developments for its project Liverpool Waters set within the Mersey Waters Enterprise Zone.
Addressing the world's property development and investment community from the Liverpool stand at this year's MIPIM property conference in Cannes, France, Peel Director Lindsey Ashworth outlined details of the latest advanced negotiations.
These developments will ultimately start to transform the 60-hectare waterfront site into a mixed-use development supporting jobs, providing homes and delivering leisure space.
He confirmed that a detailed planning application had now been submitted for an eight-storey 100,000 square foot Grade A office building at Princes Dock. This is the first such application since Liverpool Waters received its final outline planning consent in November 2013 and is a signal of the developer's commitment to, and belief in, the city's commercial office market.
The development site is off William Jessop Way adjacent to Princes Dock's multi-storey car park and the building has been named William Jessop House after the 18th century civil engineer.
The building draws its design inspiration from the location's history as part of the city's historic port. Taking stacked shipping containers as a visual cue, the designers have produced a unique building which is unashamedly modern yet in-keeping with the colour palette and scale of the current Princes Dock buildings.
The building will have sub-dividable floor plates of around 10,000 square foot of lettable floor space with the ground floor having the option for leisure usage to help bring further animation to the dockside location.
Secondly, Peel confirmed that it had now agreed a deal with developer Moda Living for a residential tower of over 325 apartments. Originally announced in December 2014, this tower will sit adjacent to William Jessop House at Princes Dock and reach 126 metres with its 40 storeys.
This high-quality development will deliver a mix of studio, one, two and three -bedroom apartments targeted at the private rental sector. The fully-managed development will include various amenities for residents including a cinema, gym, a residents' lounge and car parking. There will also be business meeting space and a permanently staffed management office.
Moda Living expects to submit a planning application for this tower to Liverpool City Council in the autumn of this year. If planning consent is granted, building work could begin on site next year with completion in 2017.
Finally, it was confirmed that terms had been provisionally agreed on three of the other 88 waterfront plots. Two would be a hotel bringing 150 high-quality hotel bedrooms to the city with 40 "high end" residential apartments managed by the hotel. The third site is proposed to be developed for circa 100-apartments. Both development sites would command spectacular views of the River Mersey and key elements of the city's maritime heritage.
Lindsey Ashworth, director at Peel said: "These announcements mark a major milestone for Liverpool Waters confirming what we hear time and again that the city's waterfront is a key attraction for investment. It also shows that Liverpool Waters is moving forward with a balanced mixture of uses befitting a modern dynamic city.
"We are proud to be putting an office building of the quality of William Jessop House to the City planners. It will be a transformational development which will attract businesses from within and from outside the city region. Princes Dock is currently enjoying a good occupancy rate of 97% across its three waterfront office buildings.
"We may develop it ourselves, sell the land on to others to develop or form a joint venture partnership. At this stage we rule nothing in and nothing out regarding the future development of this site in order to retain the flexibility to respond to the market."
Owing to the strength of interest in Liverpool Waters, Peel propose to identify four additional plots of land to be offered to the market in the near future in order to keep this positive momentum of activity and progress moving forward.
"We have enquiries and interest along the length of Liverpool Waters from Princes Dock to Bramley Moore Dock and we will continue working hard to secure the very best and most sustainable projects on behalf of the city." Concluded Ashworth.